Specialist in electrical wiring, the group Servica stands out due to its development and supply in global solutions, combining assembly and integration of wiring, overmolding of connections, assembly of mechanical or electrical elements.
The best technologies available
We have the best technologies added to the best price. We are able to carry out several large-scale projects, carrying out tests to check the functionality of the products.
Cut

A process in which the insulation of electrical cables and wires is measured, cut, removed and where an inkjet mark, hot mark or label can be applied.


Crimping

Operation where terminals are placed over the ends of the wire or cable. We have modern precision and high productivity equipment for automatic crimping of all kinds, from insulated tips, splices, faston, mat-n-lock, battery terminals, IDC connectors, flat-cable connectors.

Compactation tests

All tools used for crimping of terminal connections are validated by compaction tests to ensure that all electrical and mechanical characteristics comply with the data.
Marking

Inkjet and hot marking on wires and cables.

Overmolding

Overmolding is a unique injection molding process that results in a seamless combination of multiple materials into a single part or product. We have a long experience of developing solutions to isolate terminals and electronic components through high-and low framing, for which we develop the necessary tools.

Quality control

Our focus is on avoiding mistakes, with the goal to produce zero defects and zero waste during the whole process of production. We produce flawless mounting plates, automatic electric tests, artificial visual inspection, model components, validation of the first product, traction and compaction tests.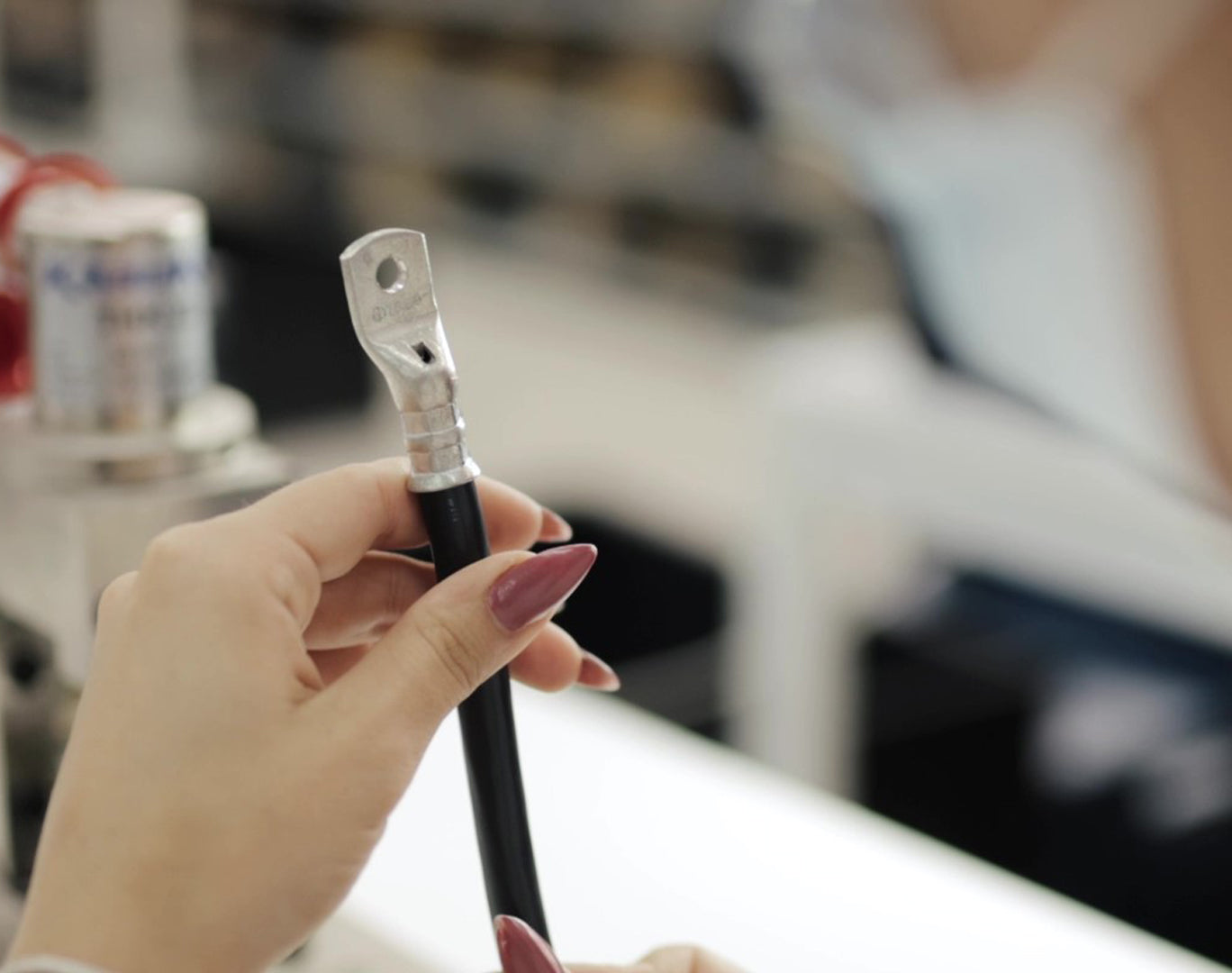 We produce quality
We are experts in electrical wiring, electronic and electromechanical modules. It has the ability to adapt to Customer requirements for all types of solutions within these technologies and their validation and approval.
In consideration of a strong technical and engineering component, the company develops all the systems, equipment and tools required to manufacture and test these products, including the requirements of the electrical, automotive, medical, railway, aerospace and food industry.
Cable applications
Electrical industry

- Refrigeration and air conditioning equipment

- Parking meters

- Low, medium and high voltage control and transformation equipment

- PCB's - Electronic Cards

- Refrigeration and air conditioning equipment

- Sound and light signalling

- Water treatment devices

- Electrical installations

- Electrical Products (Circuit Breakers, Electrical Boards, Ore)

- Remote Controls

- High and medium voltage transformers

- Robots and measuring machines

- Extraction, ventilation and cooling equipment

- Nuclear ore extraction, oil and nuclear material recycling equipment

- Lifting platforms and cranes

- Control boxes, control cabinets and motors for domestic hoists and elevators

- Billboards and TV Stands and Multimedia

- Equipment for energy distribution monitoring, TV and smarts grids conections

- Alarms and digital lockers

- Materials for harnesses industry

- Electricity transformer stations

- Electrophoresis power supplies

- Garden/Agriculture machinery

- Washing machines

- Energy management equipment

- Heating pumps

- Radio frequency generators

- Electricity consumption monitoring

- Automatic distribution

- Lighting Solutions

- Industrial Refrigerators

- Vinyl record equipment

- Industrial machines

- Household appliances

- Laser marking machines

- Telecontrol equipment

- Power Solutions

- Measuring equipment for laboratories, industry and space. Temperature, humidity, gases
Food industry

- Pastry and bakery ovens

- Storage cabinets for food and medical distribution

- Kitchen Robots

- Food preservation and refrigeration equipment

- Small appliances (Coffee machines, mixers)

- Meal Conveying Systems

- Wine acclimatization machines

- High quality Stoves

- Trolley's and coffee machines

- Food dispensing machine

- Snack's Equipment

- Food packaging machines
Medical industry

- Equipment for medical industry and hospitals

- Equipment by test and calibration from temperature, pression

- Radio frequency generators

- Medical equipment
Aerospace industry

- Harnesses for aeronautic and electrical panels

- Climatic Monitoring Systems (Aeronautic)
Automotive industry

- Trailers and caravans

- Snowmobile Accessories

- Automotive testing equipment's

- Car accessories

- Electronic charts and interfaces

- Electric vehicles chargers

- Agriculture Machines

- Navigation Systems

- Geo Position Systems
Pastry and bakery ovens

The application that requires a specific cable type.

Search by specific cable

LusoServica offers specific cables for the type of project in its catalog.

We sell the solution

Whether the cable is ready-made that we have in stock, or we can build a cable specifically for your project.